Our Team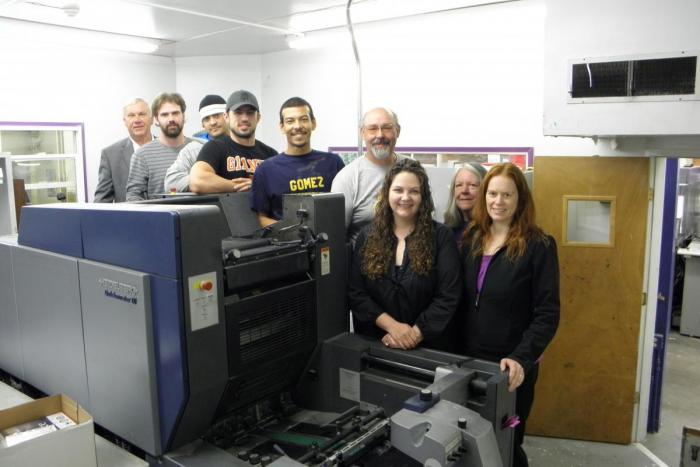 Left to Right: Lane, Seth, Dustin, Richard, Erwin, Mitch, Amandy, Susan, Lynn
Meet the Times Printing Team
Teresa works in the front office helping clients, processing orders, and scheduling jobs with production.  
Lynn leads our marketing efforts to inform businesses in the community about the services we provide and to ensure that we meet the needs of our clients.  She follows up with customers to make sure they have received their estimates in an accurate and timely manner, and to answer any questions.   
Lane, a third generation owner of Times Printing, provides consulting services to ensure our clients receive the maximum response to their print media projects.  He also does estimating, deliveries, and much more.  While out in the community if you run into Lane, be sure to stop and say hi.  
Susan, also an owner of Times Printing, does our bookkeeping.  She is also a painter and owns Studio S, an art gallery, next door to Times Printing's 3rd Street location.  
Seth, Lane's son, is a fourth generation owner of Times Printing.  He overseas business operations and continually leads the team to improve efficiency and quality of service.    
Dustin works in our prepress department doing proofing, digital printing, programming and IT work.  He also explores new technologies so that we can be on the cutting edge of the printing industry.       
Richard, our primary offset press operator, came to us from Eureka Printing, when we purchased the company in 2012.  
Mitch, who manages the bindery department, works hard to finish printed jobs exactly as clients request them and to provide our clients with top quality print work.  He also does deliveries, and is currently training in our digital printing department.  
John, the newest member of our team, works in our bindery department.  He is enjoying the challenges and rewards that come along with starting a career in the printing industry.    
Erwin works part time in the bindery department, while also pursuing a degree in law enforcement.     
Our team has 126 years of combined experience in the printing industry.  We are highly proficient in many types of printing including offset, digital, letterpress, and more recently, 3D printing.  We have the newest technology and software available, but also have equipment and technology from 1854 that we value for its history.